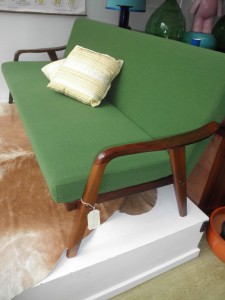 A lot of people find selecting fabric for vintage pieces a source of anxiety but it should be made a little less stressful after reading this. The first thing you should do is work out what you are going to use the piece for. If it is just a feature chair in a bedroom it doesn't need to be a commercial grade upholstery if it's going to be a family couch it needs to be resilient.
Next you need to look at your  room and decide what other pieces you have and wether there are dominant colours or other pieces that may clash with any other upholstered objects. If you do have other colours in the room using a colour wheel to find a  complimentary colour is a good idea.
Next decide on a texture, for many 1960s pieces a chunky wool in bright solid colours was a nice contrast to the organic shapes or natural timber framework. For 1950s pieces a finer textured fabric and possibly even flecks or scribbly linear weaves look great. By the 1970s the smooth solid brights were popular.
Eames and Danish modern furniture often used hopsack weaves in bright primary colours, some of these are available still from Maharam Kvadrat in Australia.
Cutting out pictures of pieces you love from magazines is a great way to work out what looks good, you can cut out textures and colours and even just colour combos that are similar to your own pieces.
When you have narrowed down to the way it will be used, colour range and texture you need to go to a supplier for fabric (it's worth having the piece quoted by an upholsterer and go with a measurement for how much fabric is required). Warrick in Melbourne have an outlet in Collingwood that is open to the public.
Going in with these ideas already clear will save you from a bombardment of ideas that will hit when you go to a showroom. There are so many great fabrics in every colour and pattern so often people are overwhelmed by the thousands of other choices around them. Having a clear idea from the start helps get the desired effect.
Don't get excited by something that is fashionable that doesn't suit the furniture or your house. So many good pieces have been nannafied by Chintz, victoriana tapestry or 90s Aztec weaves. Don't buy the cheap stuff in the sale racks unless it's great. If you are going to the effort of recovering do it right the first time.
Next stop is the upholsterer -make sure you have the foam replaced if it needs it and straps and springs often need doing at the same time. be clear on what you are getting for the price and any detailing like double stitching, piping etc. is included.
I guess the number one tip is to have a clear idea in mind before you start the selection process, you always get a better result if you put time into research and clarifying your ideas.